Morgan Innovative Design and Quality Construction Target Unique Needs of Service-Industry
February 27th, 2015 by Morgan Marketing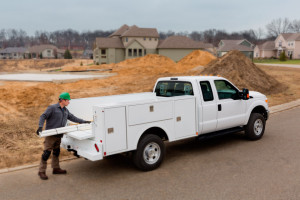 Truck body manufacturer Morgan Corporation, widely known in the industry as the leader for innovative design and quality construction, announces the launch of their Service-Pro product line. Already gaining the attention of contractors, electricians, plumbers, HVAC, and service-providers, initial feedback has been extremely positive.
"A service-provider's truck is one of the most important tools of their trade," explained Morgan's Director of Bailment Pools and OEM's, Tim Stallings. "If it's out of service, or if it doesn't support the work to be done, it's not just a problem, it's literally a drain on your business." Stallings touted Morgan's aggressive approach to design by saying, "Morgan designs bodies that not only satisfy expectations for dependability and durability, that's a given. Our goal is to exceed those expectations by adding superior design and function that actually help service-providers do their jobs…That's what we believe customers should expect. That's what we deliver."
At first glance, Morgan's Service-Pro boasts exceptional design that presents a clean, professional appearance — a clear advantage for those who believe in the power of first impressions.
Features such as powder-coating and stainless steel components that resist corrosion and stand up to grime and grit, support the look — and the likelihood of long-lasting, reliable function. Add to that, a series of pre-configured storage compartment packages that address the unique needs of the service-industry to securely store and easily access materials, equipment, tools, and parts, and service-providers will recognize that Morgan has done their homework.
Says Stallings, "Service-Pro essentially eliminates the need for our customers to find ways to adapt themselves to the limits of a vehicle. Service-providers are resourceful, but you shouldn't have to be the one to adapt when it comes to paying good money for a vehicle you're going to depend on day in and day out."
Morgan's "Contractor", "Foreman" and "Executive" level packages are the starting point for further customization that allows service-providers to select from a range of shelf configurations, add enhanced Masterlock security systems, and at the top-end – keyless fob-controlled automated locking and compartment LED lighting controls.
Quality construction is standard at all levels. All of the packages employ Uni-strut design that allows shelf adjustments up to 1/8-inch to maximize storage and minimize wasted space. Heavy-duty 18 gauge construction can house materials weighing up to 250 pounds; and divided, pull-out shelves on rover easy-slide tracks can handle up to 300 pounds.
Other standard features include 49 ½" wide bed spacing, 12 gauge steel bed construction, and a range of components that lend themselves to ease, efficiency and a safer work environment.
Says Stallings, "The most important thing service providers can do is compare us head-to-head with the competition. It's as simple as that. Step up into the bed and you'll feel how solid we are. Slam the doors, roll out the shelves, put us to the test. You'll see the difference, but more importantly, you'll feel it."
Morgan's Service-Pro is also part of its growing Bailment Pool Program – a partnering between Morgan and top OEM's – to support easy-ordering and ensure rapid delivery.
For more information or to locate a dealership near you, contact Tim Stallings at 610-741-4356 or visit Morgan's web-site – www.morgancorp.com.
About Morgan Corporation
Morgan Corporation is the premier producer of truck bodies and van bodies in North America since 1952, specializing in the manufacture of dry freight van bodies, custom cargo truck bodies, refrigerated truck bodies and stake/platform bodies. A combined twelve manufacturing and service facilities located throughout North America provide quality products, superior service, and prompt delivery to our customers wherever they may be. To learn more, visit www.morgancorp.com.
Please follow & like us :)
Categories
Search