Morgan to Display Enhanced Options and New Designs for Refrigerated and Dry Freight Trucks to Support Final Mile Deliveries
February 14th, 2018 by Morgan Marketing
Morgantown, Pennsylvania – Morgan Corporation, North America's premier designer and producer of light- and medium-duty truck and van bodies, announces the introduction of its store-to-door home grocery delivery truck body as well as market-leading improvements to its refrigerated and moving/furniture truck body product lines.
---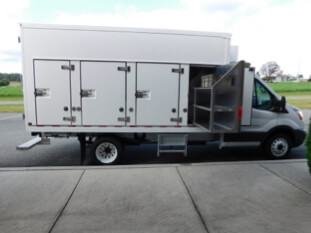 In addition to its highly successful NexGen dry freight and refrigerated bodies, Morgan is introducing a solution that offers multiple temperature zones for frozen, fresh, ambient, or heated products. Along with curbside loading and unloading and optional retractable shelving and telematics systems, this addition to the NexGen product line is up to 20% lighter in weight than traditional body designs. Smooth wall construction, a non-corrosive body – including subframe – and sealed joints for a tight fit against the elements, round out Morgan's cutting-edge home delivery truck body. "With the significant growth in final mile and home grocery delivery in recent years, Morgan now sets the standard for grocers, caterers, and many others" stated Paul Jarossy, Director of Marketing and New Business Development.
---

With its commitment to innovation and growth as the market leader, Morgan will also demonstrate upgrades to its traditional reefer body as well as its moving and furniture body. The moving body will incorporate a Cargolight™ wall system from CellTech that is exclusive to Morgan. When compared to current wall and cargo control arrangements, this unique design employs an embedded vertical track system every two feet that allows the user to add, delete, or move e-track, tie slats, and other freight restraint options as their needs change. As an added feature, the outer wall is smooth because there are no through-wall fasteners, thus offering a cleaner surface for graphics.
---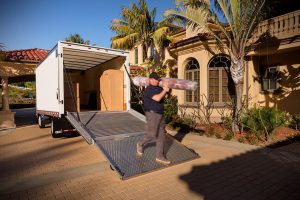 Finally, the Morgan moving truck will also demonstrate how an optional door/ramp combination, that has been very popular with landscapers on the Morgan Proscape Van, can replace the narrow rear walk ramp and provide more flexibility for users and their equipment in accessing the truck body. "Our customers are excited about this new feature because it offers more flexibility when handling their client's goods" added Jarossy. Morgan will be displaying at the NTEA Work Truck Show in Indianapolis, Indiana in booth #5139 from March 7th – 9th.
---
Morgan Corporation has been the premier producer of truck and van bodies in North America for 65 years. Morgan specializes in the manufacture of Class 3 to Class 7 (GVW) box truck/straight truck bodies to serve the dry freight and refrigerated industries. Morgan produces truck bodies to accommodate cargo of every configuration — from parcel delivery to furniture movers and heavy-equipment hauling, insulated and refrigerated units, bottled gas transport, and flatbed/stake & platform bodies. In recent years, Morgan has also launched various truck bodies geared towards the landscape and contractor industries. With 11 current facilities in North America, Morgan has recently announced plans to open additional manufacturing plants in New England and the Midwest through 2018 and 2019.
Please follow & like us :)
Categories
Search