Morgan Corporation and CellTech Metals to Exhibit New Truck Bodies Structural Innovation at NTEA Show in Indianapolis March 15-17
March 10th, 2017 by Morgan Marketing
Morgantown, Pennsylvania – Morgan Corporation and CellTech Metals are working together to bring the next generation of lightweight sandwich metal panels to the truck body industry. The companies have entered into an exclusive development agreement to integrate structural CellTech wall panels and all metal sandwich floor systems into Morgan's fleet of dry freight truck bodies providing enhanced features and benefits for their customers.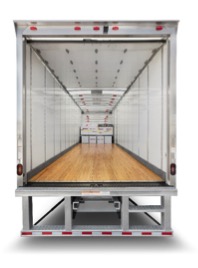 The Morgan truck solutions in development include The CellTech Track Panel™, an industry-first all metal truck body wall panel with a flush-mounted cargo management track system. The E Track systems are integrated prior to truck body assembly and are compatible with traditional captive decking and cargo management systems. These Track Panels with shiplap edges may be adhesively bonded creating rivet-free exterior wall surfaces with a clean aerodynamic finish.
The unique all metal floor system will reduce weight, improve cube space and deliver a truck floor system unlike anything else in the market. CellTech's floor panels basically form a metal bridge on the truck chassis that will be stronger, lighter and more durable than current wood floor solutions.
According to Corby Stover, Morgan's Vice President of Engineering, "The CellTech wall panels will enable Morgan to offer a superior body alternative unmatched in the industry.  The CellTech panels are lighter in weight by approximately 20 – 30% versus traditional body panels. The smooth interior panel surfaces can be configured with load tracks embedded in the wall for cargo control interface flexibility. In addition, these panels are more robust structurally and very attractive in appearance – the smooth exterior surfaces are ideal for installing enhanced business graphics"
Doug Cox, CellTech Metals' President and CEO says: "We are excited to work so closely with Morgan's creative and talented engineers. In Morgan, CellTech has found an ideal partner to develop, innovate and bring to market new ideas providing significant benefits for Morgan's dry freight truck body solutions. CellTech's lightweight metal panels offer tremendous stiffness-to-weight advantages, deliver a lower cost of ownership, freight management versatility, and increased resale value to Morgan's customers. We have received tremendous feedback from our integrated freight management track solutions in Morgan truck bodies."
Morgan Corporation will exhibit the Morgan 65th Anniversary Truck with wall panels from CellTech in booth # 4947 at the NTEA Work Truck Show in Indianapolis, Indiana March 15-17, 2017; attendees are invited to visit the booth to see this innovative new combination first-hand.
About CellTech Metals
CellTech Metals is a sandwich material technology company that designs and produces patented lightweight panel solutions for the transportation industry. For more information about CellTech Metals visit www.celltechmetals.com.
See us at the NTEA Booth #4947
Please follow & like us :)
Categories
Search