Introducing Alternative Powered Vehicle (APV) Body Upfitting
When you find yourself standing at the crossroad between the familiar past, and the Zero-Emissions delivery truck options that will inevitably be the future, rest assured - Morgan knows what's ahead. We've been tracking the evolution of technology for over 65 years. We've been preparing our facilities and our teams to accommodate every change. We've not only been ahead of the curve…We've been leading the way. So, when you're ready to choose an electric-powered truck or alternative fuel delivery vehicle, we'll be ready to equip it with the best truck body for YOUR business. That's what we do. That's what we've always done.
Morgan E-Vantage
Morgan Truck Body has been preparing for the arrival of Alternative Powered Vehicles for more than a decade. From those who are exploring new opportunities, to those that are already leading OEM's – we recognized the growing interest in sustainable transportation, and began expanding and equipping our facilities to streamline APV upfitting years ago! Our team members participate in ongoing training to ensure they're ready and able to provide top-quality support for our customers – before, during and after the sale.
And with over 65 years of industry leading innovative design and construction experience, we're prepared to build a truck or van body that accommodates the electric powered vehicle, APV, or hybrid chassis of your choice. That's the E-vantage of choosing a company that's been the industry leader for over 65 years. Morgan Truck Body – the only E-vantage you need.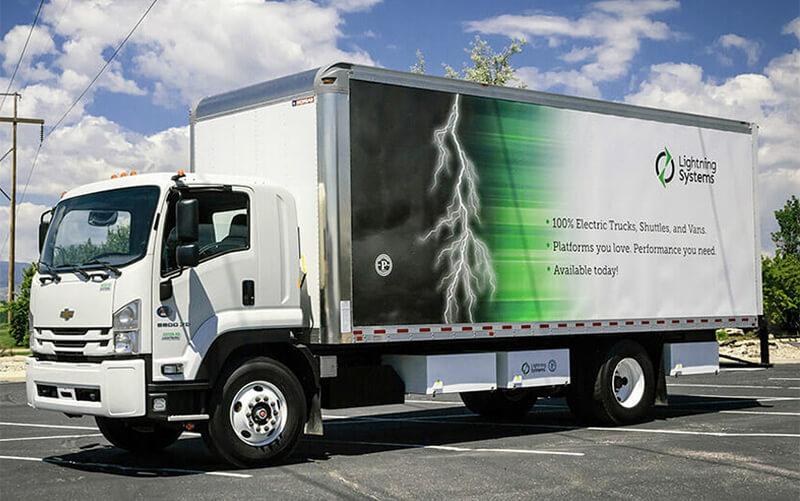 The Right Truck Body For Every APV
Your Alternative Powered Vehicle choices are many – From natural gas (NGV), propane (LPG), and hydrogen fuel cell electric (FCEV) vehicles, to battery electric vehicles (BEV), hybrids, and the alternative-powered vehicles that have yet to be introduced, there's only ONE right choice when it comes to choosing the best TRUCK BODY for your APV – Morgan. Every Morgan truck and van body is designed and built on decades of experience, a commitment to satisfy your unique needs, and the ability to do exactly that. Morgan – we're ready when you are.

Electric

Hydrogen

Natural Gas

Propane
Morgan Products
Morgan Truck Body builds the best bodies for EVERY business! From dry freight and refrigerated product delivery, to farming, landscaping, contracting and professional services – business owners count on Morgan's innovative design, quality construction and thoughtful options to make their jobs easier and more efficient. So it's no surprise that Morgan is continuing to lead the way when it comes to upfitting today's (and tomorrow's) APV and electric-powered delivery trucks. First mile to final-mile, you can depend on Morgan!
Dry Freight
Refrigerated
Stake Platform
Dump
J.B. Poindexter & Co.
The Power of Family
You know Morgan Truck Body by name, and by reputation, but you may not know that we're part of an extra-ordinary network of companies with wide-ranging experience and expertise. Our parent company, JB Poindexter, owns and operates enterprises that focus exclusively on transportation, industrial, and specialty product production. The benefit, of course, is direct access to a knowledge-base that spans decades, and to facilities across the U.S. and Canada. The strength of family – and only one name to remember – Morgan.
Morgan Locations
Morgan's APV facilities already span the United States – and we're growing! From manufacturing and mounting to parts and service centers, we're committed to making it easy to own the best body in the business on the electric-powered truck or APV chassis of your choice!
Morgan APV Facilities
Morgan Facilities
Partners
Large or small, the best OEM's in the business choose Morgan! Together we've overcome the challenges of an evolving industry. From electric powered vehicles to those driven by emerging fuels - compressed natural gas, liquified natural gas, and hybrids, we've fulfilled requirements, and exceeded expectations. We've stood the tests of time -- and change. For over 65 years, we've partnered with the best to move products and deliver services across town and across the country, and there's no stopping now. That's why the best in the business choose the best in the business!
We're Here For You
Choosing the right body for your business is a big decision. Let our experts help you find the perfect fit for your business.
Sales & Marketing
---
Tim Stallings
Director of Bailment & OEM's
---
Joey Capra
West Coast Regional Sales Director
---
Meredith Pollard
National Account Manager
---
Stephen Vajda
Marketing Manager
---